Bathrooms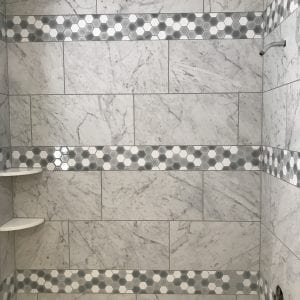 Tile is the safe and healthy choice for your home or office bathroom. Tile is stain resistant, water resistant and prevents bacteria- all while being easy to maintain and long lasting.
There are multiple different styles to choose from for your shower including combining travertine and pebbles, using bold accents with styles such as subway tile, vertical linear tile, a natural stone look or a faux antique look with hexagon tile.
Let one of our showroom consultants guide you through the process of making selections to design the bathroom you have always wanted for your home or office. Whether you want the latest trend, or just want something easy to maintain, our trained professionals will help you stay on budget with the knowledge and experience to help choose the right tile for your job.